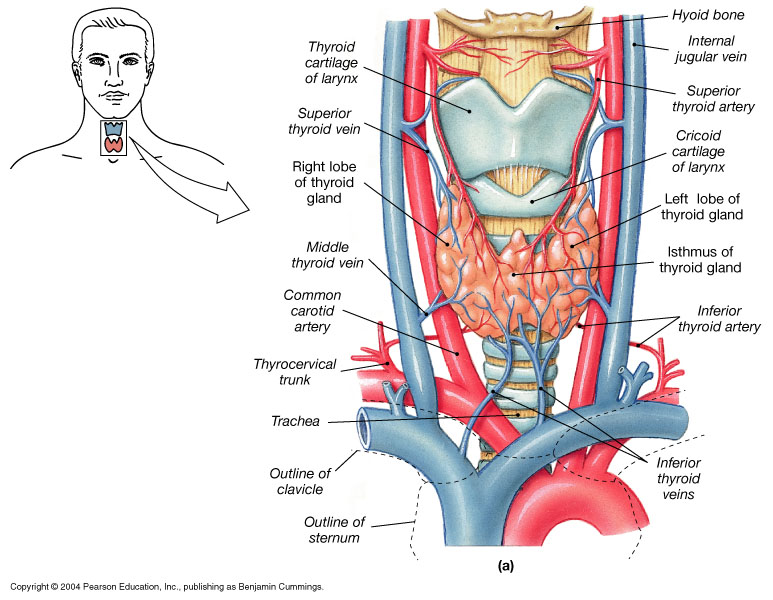 THYROID GLAND
THYROID-
•Derived from pharyngeal endoderm at 4/40
•Migrate from base of the tongue to cover the 2&3 tracheal rings.
•Blood supply from ext. carotid & subclavian and blood flow is twice renal blood flow/g tissue.
Starts producing thyroxin at 14/40
•Maternal & fetal glands are independent with little transplacental transfer of T4.
•TSH doesn't cross the placenta.
•Fetal brain converts T4 to T3 efficiently.
•Average intake of iodine is 500 mg/day. 70% of this is trapped by the gland against a concentration gradient up to 600:1
THYROID HORMONES
•Iodine & tyrosine form both T3 & T4 under TSH stimulation. However, 10% of T4 production is autonomous and is present in patients with central hypothyroidism.
•When released into circulation T4 binds to:
Globulin TBG 75%
Prealbumin TBPA 20%
Albumin TBA 5%
•Less than 1% of T4 & T3 is free in plasma.
•T4 is deiodinated in the tissues to either T3 (active) or reverse T3 (inactive).
•At birth T4 level approximates maternal level but increases rapidly during the first week of life.
•High TSH in the first 5 days of life can give false positive neonatal screening
CONGENITAL HYPOTHYRODISM-
•Primary thyroid defect: usually associated with goiter.
•Secondary to hypothalamic or pituitary lesions: not associated with goiter.
•2 distinct types of presentation:
üNeurological with MR-deafness & ataxia
üMyxodematous with dwarfism & dysmorphism
TSH-
q Is a Glico-protein with Molecular Wt of 28000
q Secreted by the anterior pituitary under influence of TRH
q It stimulates iodine trapping, oxidation, organification, coupling and proteolysis of T4 & T3
q It also has trophic effect on thyroid gland
qT4 & T3 are feed-back regulators of TSH
q TSH is stimulated by a-adrenergic agonists
q TSH secretion is inhibited by:
üDopamine
üBromocreptine
üSomatostatin
üCorticosteroids
qConversion of T4 to T3 is decreased by:
THYROID HORMONES (T3)
üAcute & chronic illnesses
üb-adrenergic receptor blockers
üStarvation & severe PEM
üCorticosteroids
üPropylthiouracil
üHigh iodine intake (Wolff-Chaikoff effect)
THYROXINE (T4)
qTotal T4 level is decreased in:
üPremature infants
üHypopituitarism
üNephrotic syndrome
üLiver cirrhosis
üPEM
üProtein losing entropathy
THYROXINE (2)-
qTotal T4 is decreased when the following drugs are used:
üSteroids
üPhenytoin
üSalicylates
üSulfonamides
üTestosterone
Maternal TBII
THYROXINE (3)-
qTotal T4 is increased with:
üAcute thyroiditis
üAcute hepatitis
üEstrogen therapy
üClofibrate
üiodides
üPregnancy
üMaternal TSI
–
ETIOLOGY
•CONGENITAL
ØHypoplasia & mal-descent
ØFamilial enzyme defects
ØIodine deficiency (endemic cretinism)
ØIntake of goitrogens during pregnancy
ØPituitary defects
Idiopathic
ETIOLOGY /2
•ACQUIRED
üIodine deficiency
üAuto-immune thyroiditis
üThyroidectomy or RAI therapy
üTSH or TRH deficiency
üMedications (iodide & Cobalt)
üIdiopathic
KILPATRIK GRADING OF GOITRE-
•Grade 0: Not visible neck extended & Not palpable
•Grade 1: Not visible, but palpable
•Grade 2: Visible only when neck is extended & on swallowing,
•Grade 3: Visible in all positions
•Grade 4: Large goiter
FUNCTIONS OF THYROXINE-
q Thyroid hormones are essential for:
üLinear growth & pubertal development
üNormal brain development & function
üEnergy production
üCalcium mobilization from bone
üIncreasing sensitivity of b-adrenergic receptors to catecholeamines
CLINICAL FEATURES-
ØGestational age > 42 weeks
ØBirth weight > 4 kg
ØOpen posterior fontanel
ØNasal stuffiness & discharge
ØMacroglossia
ØConstipation & abdominal distension
ØFeeding problems & vomiting
•Non pitting edema of lower limbs & feet
•Coarse features
•Umbilical hernia
•Hoarseness of voice
•Anemia
•Decreased physical activity
•Dry, pale & mottled skin
•Low hair line & dry, scanty hair
•Hypothermia & peripheral cyanosis
•Hypercarotenemia
•Growth failure
•Retarded bone age
•Stumpy fingers & broad hands
qNeurological manifestations
üHypotonia & later spasticity
üLethargy
üAtaxia
üDeafness + Mutism
üMental retardation
üSlow relaxation of deep tendon jerks
•Skeletal abnormalities:
üInfantile proportions
üHip & knee flexion
üExaggerated lumbar lordosis
üDelayed teeth eruption
üUnder developed mandible
Delayed closure of anterior fontanel
•Prolonged (>2/52) neonatal jaundice
OCCASIONAL FEATURES-
•Overt obesity
•Myopathy & rheumatic pains
•Speech disorder
•Impaired night vision
•Sleep apnea (central & obstructive)
•Anasarca
•Achlorhydria & low intrinsic factor
•Decreased bone turnover
•Decreased VIII, IX & platelets adhesion
•Decreased GFR & hyponatremia
•Hypertension
•Increased levels of CK, LDH & AST
•Abnormal EEG & high CSF protein
•Psychiatric manifestations
ASSOCIATIONS-
•Autoimmune diseases (Diabetes Mellitus)
•Cardiomyopathy & CHD
•Galactorrhoea
•Muscular dystrophy + pseudohypertrophy (Kocher-Debre-Semelaigne)
GOITROGENS-
•DRUGS
ØAnti-thyroid
ØCough medicines
ØSulfonamides
ØLithium
ØPhenylbutazone
ØPAS
q FOOD
üSoybeans
üMillet
üCassava
üCabbage
ØOral hypoglycemic agents
DIAGNOSIS-
•Early detection by neonatal screening
•High index of suspicion in all infants with increased risk
•Overt clinical presentation
•Confirm diagnosis by appropriate lab and radiological tests
LABROTARY FINDINGS-
•Low (T4, RI uptake & T3 resin uptake)
•High TSH in primary hypothyroidism
•High serum cholesterol & carotene levels
•Anaemia (normo, micro or macrocytic)
•High urinary creatinine/hydroxyproline ratio
•CXR: cardiomegaly
•ECG: low voltage & bradycardia
IMAGING TESTS-
q X-ray films can show:
üDelayed bone age or epiphyseal dysgenesis
üAnterior peaking of vertebrae
üCoxavara & coxa plana
q Thyroid radio-isotope scan
q Thyroid ultrasound
q CT or MRI
TREATMENT-
qLife-long replacement therapy
q 5 types of preparations are available:
üL-thyroxin (T4)
üTriiodothyronine (T3)
üSynthetic mixture T4/T3 in 4:1 ratio
üDesiccated thyroid (38mg T4 & 9mg T3/grain)
üThyroglobulin (36mg T4 & 12mg T3/grain)
•L-Thyroxin is the drug of choice. Start with small dose to avoid cardiac strain.
•Dose is 10 mg/kg/day in infancy. In older children start with 25 mg/day and increase by 25 mg every 2 weeks till required dose.
•Monitor clinical progress & hormones level
THYROID FUNCTION TESTS-
1. Peripheral effects:
üBMR
üDeep Tendon Reflex
üCardiovascular indices (pulse, BP, LV function tests)
üSerum parameters (high cholesterol, CK, AST, LDH & carcino-embryonic antigen)
2. Thyroid gland economy:
ØRadio iodine uptake
ØPerchlorate discharge test (+ve in Pendred syndrome & autoimmune thyroiditis)
ØTSH level
ØTRH stimulation tests
ØThyroid scan
3. Tests for thyroid hormone:
ØTotal & free T4 & T3
ØReverse T3 level
ØT3 Resin Uptake
ØT3RU x total T4= Thyroid Hormone Binding Index (formerly Free Thyroxin Index)
qSpecial Tests:
ØThyroglobulin level
ØThyroid Stimulating Immunoglobulin
ØThyroid antibodies
ØThyroid radio-isotope scan
ØThyroid ultrasound
ØCT & MRI
ØThyroid biopsy
PROGNOSIS-
qDepends on:
ØEarly diagnosis
ØProper diabetes education
ØStrict diabetic control
ØCareful monitoring
ØCompliance
qIs good for linear growth & physical features even if treatment is delayed, but for mental and intellectual development early treatment is crucial.
q Sometimes early treatment may fail to prevent mental subnormality due to severe intra-uterine deficiency of thyroid hormones
MYXOEDMATOUS COMA-
q Impaired sensorium, hypoventilation bradycardia, hypotension & hypothermia
q Precipitated by:
üInfections
üTrauma (including surgery)
üExposure to cold
üCardio-vascular problems
üDrugs
Hypothyroidism:
•Causes:
–structural or functional
–95% are due to:
•Surgical or radiation ablation
•Hashimoto's thyroiditis
•Primary idiopathic hypothyroidism
–appear insidiously & subtle
–lethargy & weakness with slow speech
–cold intolerance with cool & rough skin
–menstrual problems & psychosis
–cardiac changes: ¯ cardiac output, hypertrophy, (myxedema heart), pericardial effusion
–deposition of mucopolysaccharides in connective tissue
–atherosclerosis (­ cholesterol)
Types of Lipid Abnormalities in Patients With Hypothyroidism-
Hypercholesterolemia(>200 mg/dL)-56.3%
Hypertriglyceridemia(>150 mg/dL)-1.5%
Hypercholesterolemia and mild hypertriglyceridemia-33.6%
Normal Lipids-8.6%
Effect of L-Thyroxine Therapy on Hypercholesterolemia in Patients With Mild Thyroid Failure
"The decrease in total cholesterol achieved with L-thyroxine replacement] substitution therapy in patients with subclinical hypothyroidism [mild thyroid failure] may be considered as an important decrease in cardiovascular risk favoring treatment."
Cardiovascular Changes Often Associated With Hypothyroidism-
Apparent
cardiomegaly
Increased
Increased
diastolic pressure,
peripheral vascular resistancediastolic pressure,
peripheral vascular resistance
ECG changes
Decreased
myocardial contractility,
myocardial oxygen demand,
cardiac outputmyocardial contractility,
myocardial oxygen demand,
cardiac output
Subclinical Hypothyroidism
Issues-
nLipid elevation
nCAD risk factor
nCardiac function
nProgression to overt disease
When to Suspect Mild Thyroid Failure-
Hypercholesterolemia1,2
•Refr•actory depression2
•Previous episode of postpartum thyroiditis2
•Goiter1
•Family or personal history of thyroid disease1
•Over 40 with nonspecific complaints2
•Insidious weight change
•Unexplained infertility2
•Overweight
Hypothyroidism:-
Many Causes, One Treatment-
•Goal: normalize TSH level regardless of cause of hypothyroidism1
•Treatment: once daily dosing with L-thyroxine
(1.6 μg/kg/day)2
•Monitor TSH levels at 6 to 8 weeks, after initiation of therapy or dosage change3
•If lipids are elevated, recheck when euthyroid
Over- and Under-Replacement Risks-
Over-Replacement Risks
•Reduced bone density/osteoporosis1
•Tachycardia, arrhythmia,2 atrial fibrillation
•In elderly or patients with heart disease, angina, arrhythmia, or myocardial infarction2
Under-Replacement Risks
•Continued hypothyroid state
•Long-term end-organ effects of hypothyroidism
•Increased risk of hyperlipidemia
Consensus Statement-
Subclinical Hypothyroidism
•Treatment reasonable for patients with TSH levels >10 mU/liter
•Treatment should be considered with TSH levels of 4.5-10 mU/liter with key determinant being the clinical judgment of the provider
Subclinical Hyperthyroidism
Treatment recommended with TSH <0.1 mU/liter even if asymptomatic and with room to observe and monitor in patients with partial TSH suppression (0.1-0.4 mU/liter
Subclinical Thyroid Disease and the Heart-
"When the Thyroid Speaks…the Heart Listens"